Luis Alvarez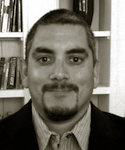 9500 Gilman Drive
Mail Code: 0104
La Jolla , California 92093
Bio

Luis Alvarez is associate professor of history at the University of California, San Diego. His research and teaching interests include relational race and ethnicity, popular culture, and social movements in the history of Chicanas/os, Latinas/os, African Americans, and the U.S.-Mexico Borderlands. He is the author of The Power of the Zoot: Youth Culture and Resistance during World War II (2008, University of California Press, American Crossroads Series) and co-editor of Another University is Possible (University Readers Press, 2010). His publications also include essays in Latino Studies, Aztlan: A Journal of Chicano Studies, Popular Music and Society, Perspectives, French Review of American Studies, OAH Magazine of History, and Kalfou: A Journal of Comparative and Relational Ethnic Studies. He has also published essays in Mexican Americans in World War II (University of Texas Press), Transnational Encounters: Music and Performance at the U.S.-Mexico Border (Oxford University Press), The Struggle in Black and Brown: African American and Mexican American Relations during the Civil Rights Era (University of Nebraska Press), Globalization and Culture: Volume II (Edward Elgar Publishing, Ltd, 2012), and Latinos and World War II: Mobility, Agency, and Ideology (University of Texas Press).

He is current projects include, From Civil Rights to Global Justice: Popular Culture and the Politics of the Possible, an investigation of race, pop culture, and social movements in the Americas since World War II, and Latino Soldiering: Ethnic Politics and Military Service in World War II, which explores the multiracial, gender, and transnational politics of Mexican American and Afro Latino soldiers from boot camp to combat to post war life. He is also co-editing (with David Gutierrez) A History of Mexican America (under contract with Routledge Press). He has won numerous awards for his research, teaching, and service including fellowships from the Warren Center for Studies in American History at Harvard University, the Ford Foundation, the University of California's Office of the President, the Institute for Humanities Research at Arizona State University, the Teaching Excellence Award from the University of Houston, and, the Equal Opportunity/Affirmative Action and Diversity Award from UC San Diego.
Courses
HILD 2C, U.S. History since the Civil War, lower division survey
HILD 7C, Chicana/o History, lower division survey
HILD 146, Race, Riots, and Violence in the U.S., upper division
HIUS 155, Race and Popular Culture since World War II, upper division
HIUS 159, History of the Southwest and U.S.-Mexico Borderlands, upper division
HIUS 168/268, Race and Cultural Politics, upper level colloquium/graduate seminar
HIUS 187/287, Race and Social Movements, upper level colloquium/graduate seminar
HIGR 200, Readings in Social Theory, graduate seminar
HIGR 267A/B, Research Seminar in U.S. History, graduate seminar
HILD 7C lecture on Zoot Suits and World War II recorded by C-SPAN during Summer Session 1, 2017. It is part of their American History TV series. 
Faculty