Karl Gerth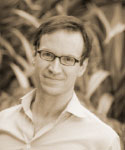 9500 Gilman Dr
Department of History
Mail Code: 0104
La Jolla , California 92093
Curriculum Vitae

Karl Gerth writes on the history and contemporary implications of Chinese consumerism. His latest book, As China Goes, So Goes the World: How Chinese Consumers are Transforming Everything, explores the wide-ranging ramifications and future implications of China's shift toward a market economy over the past thirty years.

Professor Gerth's first book, China Made: Consumer Culture and the Creation of the Nation, examines the connections between nationalism and consumerism in China in the first half of the twentieth century. In addition, he has published and presented papers on comparative aspects of modern Chinese and world history, including "Consumption and Consumerism in East Asia," "The Origins and Implications of Chinese Brand Nationalism," and "The Ecological Implications of Chinese Consumerism." He has been awarded numerous grants to support his research including from the British Academy, the Fulbright Foundation, the Chiang Ching-kuo Foundation, the American Council of Learned Societies, the Blakemore Foundation, and the Japanese Ministry of Education scholarship for two years of study at Tokyo University.

He currently is completing a book that uses archival materials, periodicals, memoirs, and interviews conducted in China to investigate the survival of market practices in the nation's urban centers following the establishment of Communist rule in 1949. In addition, he is the Chinese co-team leader of the Oslo-based Ceres21 Project currently investigating innovative adaptations in the automotive and power industries to climate and environmental change on three continents.

After receiving his PhD in modern Chinese history from Harvard in 2000, he taught at the University of South Carolina until his 2007 move to Oxford University, where he was the Dame Jessica Rawson Fellow & Tutor in Modern Asian History at Merton College until moving to UCSD in 2013.