Weijing Lu
Weijing Lu
Professor, History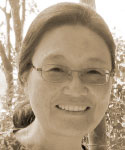 9500 Gilman Dr
Department of History
Mail Code: 0104
La Jolla , California 92093
Curriculum Vitae
Selected Publications
Research
Courses
Curriculum Vitae

Weijing Lu has received academic training in classical literature and history in China and the United States. She earned her B.A. and M.A. degrees from Fudan University in Shanghai. In 1993, she came to the U.S. to study, and received her Ph.D. in history from the University of California, Davis in 2001.

Professor Lu teaches undergraduate and graduate courses in Chinese and East Asian history. Her primary research interests include Chinese women's and gender history, the history of the Chinese family and marriage, and late imperial social and cultural history. Her first book, True to Her Word: The Faithful Maiden Cult in Late Imperial China, explores the intellectual controversy and family conflict that surrounded the faithful maidens, and the beliefs, mentality, and lived experiences of these women. Recently, she guest-edited a special issue on China for the Journal of the History of Sexuality (2013).

Professor Lu is currently working on a book project investigating marriage, family relations, and intimacy in late imperial China. The project is making use of abundant (and largely underexplored) personal writings of men and women, including biographies, memoirs, poetry, and correspondences from the 17th through the 19th centuries. Her research has been supported by a number of sources, including fellowships from the National Endowment for the Humanities and the American Council of Learned Societies.
Selected Publications

True to Her Word: The Faithful Maiden Cult in Late Imperial China (Stanford University Press, 2008). 

Winner of Berkshire Conference of Women Historians 2008 First Book Prize. Chinese translation: Shizhi buyu: Ming-Qing shiqi de zhennü xianxiang 矢志不渝:明清时期的贞女现象. Jiangsu renmin chubanshe, 2010.

"Reviving An Ancient Filial Ideal: The 17th-Central Practice of Lumu廬墓." The Chinese Historical Review 20.2 (November 2013).

"Abstaining from Sex: Mourning Ritual and the Confucian Elite." Journal of the History of Sexuality 22.2 (May 2013).               

"Chinese Women's Studies in the United States." In Zhang Haihui et al eds. Chinese Studies in North America – Research, Teaching and Resources.  (In Chinese). Beijing: Zhonghua Shuju, 2011.

"'A Pearl in the Palm:' A forgotten Symbol of the Father-daughter Bond." Late Imperial China 31.1 (June 2010).

"Faithful Maiden Biographies: A Forum for Ritual Debate, Moral Critique, and Personal Reflection." In Joan Judge and Hu Ying eds. Beyond Exemplar Tales: Women's Biography in Chinese History. Berkeley: University of California Press, 2010.

"Personal Writings on Female Relatives in the Qing Collected Works." In Clara Wing-ching Ho ed. Overt and Covert Treasures: Essays on the Sources for Chinese
 Women's  History. Hong Kong: The Chinese University Press, 2010.

"Beyond the Paradigm: Tea-picking Women in Imperial China." Journal of Women's History 15.4 (Winter 2004).

"Uxorilocal Marriage among Qing Literati."

Late Imperial China

19.2 (December 1998).
Research
Meanings of Marriage in late Imperial China
Courses
HIEA 137. Women and the Family in Chinese History.
HIEA 138. Women and the Chinese Revolution.
HILD 11. East Asia and the West, 1279-1911.
HIEA 125. Women and Gender in East Asia.
HIEA 171/271. Society and Culture in pre-modern China.
HIGR 217C Historical Scholarship in Pre-modern Chinese History, 1200-1800
HIGR 164/264. Seminar in Late Imperial Chinese History