Rebecca Jo Plant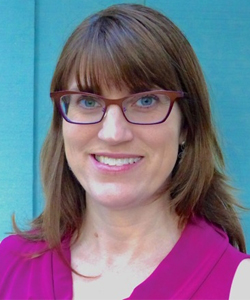 9500 Gilman Dr
Department of History
Mail Code: 0104
La Jolla , California 92093
Curriculum Vitae
Publications
Courses
Research
Curriculum Vitae

Rebecca Jo Plant is an associate professor of history. Her research interests focus on women's, gender and family history; the history of therapeutic culture and the psychological professions; and the social and psychological impact of war in the nineteenth- and twentieth-century U.S. She received her Ph.D. from Johns Hopkins University and has taught at UC San Diego since 2002.
Publications
Courses
Undergraduate:
HIUS 144: US Civil War and Reconstruction
HIUS 156: American Women, American Womanhood, Colonial Times to 1870
HIUS 157: American Women, American Womanhood, 1870 to the Present
HILD 2B: U.S. History: The Nineteenth Century
HIUS 173: Topics in American Women's History: Historical Perspectives on the Family and the Emotions
CGS 107: Gender and Reproductive Rights
CGS 104: Mothers and Motherhood: Cross-Cultural Perspectives
HITO 192: Senior Seminar in History: Women and the Law: Colonial Era to Reconstruction
HILD 90: Documenting American Culture in the 1930s
Joint undergraduate/graduate:
HITO 168/268: The U.S. and Germany, 1890s-1960s: Transnational Relations and Competing Modernities (co-taught with Prof. Frank Biess)
HIUS 181/281: Topics in Twentieth-Century U.S. History: The Rise of Therapeutic Culture
Graduate:
HIGR 267: Research Seminar in U.S. History
HIGR 265C: Historical Scholarship on the Twentieth-Century U.S.: Families, Sexual Difference, and the State
HIGR 265C: Historical Scholarship on the Twentieth-Century U.S.: Labor and Consumption
HIGR 205: Historical Scholarship on Women and Gender
HIGR 209: Teaching History (co-taught with Prof. Mark Hanna)
Research

I am currently working on two book projects. The first, a collaborative project with Frances M. Clarke (University of Sydney), is provisionally entitled Child Soldiers: Militarism and American Youth from the Revolution through World War II. In the U.S. today, the phrase "child soldier" typically conjures troubling images of young boys and adolescents in war-torn African countries. But the idea of children performing military service has not always seemed so distant or foreign. From the colonial era through World War II, minors played a notable role in all of the nation's major military conflicts. Drawing on first-person accounts, cultural representations, and heated debates that played out in legal, political and familial realms, our project will be the first comprehensive history of the relationship of children and youth to the American military. By tracking shifting attitudes and practices in regard to military training and recruiting in schools and youth organizations, we will also illuminate the history of ongoing debates over the appropriate role of the military within a democratic republic.

My second ongoing book, tentatively entitled Governing the Unconscious: American Psychiatry and War Trauma during World War II, is also centrally concerned with war, masculinity, and social change. Americans do not typically associate war trauma with World War II or the "greatest generation" that fought it, but the Army in fact suffered enormous manpower losses due to neuropsychiatric disorders, with rates of discharge proportionately far higher than in World War I, Korea, or Vietnam. Moreover, contrary to popular perceptions today, the issue was widely aired in the press, ultimately leading to the passage of 1946 National Mental Health Act, which for the first time designated federal monies for psychiatric research. My project will show how military psychiatrists capitalized on wartime opportunities to legitimate their expertise, and how their efforts affected both professional and popular notions of mental illness and masculine subjectivity. I will focus on psychiatrists' theoretical and clinical approaches to war trauma, their attempts to overcome public and military skepticism and outright hostility, and the models of democratic manhood they advanced. Tracing the professional, intellectual and gendered implications of the psychiatric war effort, Governing the Unconscious will document a pivotal era in the history of psychiatry while illuminating its larger cultural effects.