Rebecca Jo Plant
Professor, History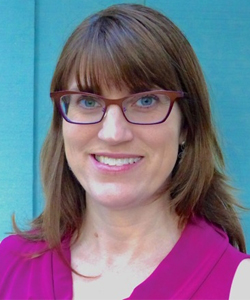 9500 Gilman Dr
Department of History
Mail Code: 0104
La Jolla , California 92093
Curriculum Vitae
Publications
Courses
Research
Curriculum Vitae

Rebecca Jo Plant is a Professor of History and an Academic Senate Distinguished Teacher. Her research interests focus on gender and family history and the social and psychological impact of war in the nineteenth- and twentieth-century U.S. Born in 1968, she grew up in Kansas City, attended college at Macalester College in St. Paul, Minnesota, and later moved to Baltimore to pursue graduate studies at Johns Hopkins University. She taught for two years at Vanderbilt University before coming to UC San Diego in 2002.

Rebecca's most recent book, coauthored with France M. Clarke (University of Sydney) is Of Age: Boy Soldiers and Military Power in the Civil War Era (Oxford University, 2023). She is also the author of Mom: The Transformation of Motherhood in Modern America (Chicago, 2010), and co-editor of Maternalism Reconsidered: Motherhood, Welfare, and Social Policies in the Twentieth Century (Berghahn, 2012). She has held fellowships from the American Association of University Women, the Radcliffe Institute for Advanced Study, the American Council of Learned Societies, and the Australian Research Council. Together with Judy Tzu-Chun Wu, she is currently coeditor of the journal and database Women and Social Movements in the United States, 1600-2000.
Publications
Courses
Undergraduate:
HIUS 112: US Civil War and Reconstruction
HIUS 156: American Women, American Womanhood, Colonial Times to 1870
HIUS 157: American Women, American Womanhood, 1870 to the Present
HILD 2B: U.S. History: The Nineteenth Century
HIUS 173: Topics in American Women's History: Historical Perspectives on the Family and the Emotions
Joint undergraduate/graduate:
HITO 168/268: The U.S. and Germany, 1890s-1960s: Transnational Relations and Competing Modernities (co-taught with Prof. Frank Biess)
HIUS 181/281: Topics in Twentieth-Century U.S. History: The Rise of Therapeutic Culture
Graduate:
HIGR 267: Research Seminar in U.S. History
HIGR 265C: Historical Scholarship on the Twentieth-Century U.S.: Families, Sexual Difference, and the State
HIGR 265C: Historical Scholarship on the Twentieth-Century U.S.: Labor and Consumption
HIGR 205: Historical Scholarship on Women and Gender
HIGR 209: Teaching History (co-taught with Prof. Mark Hanna)
Research

I am currently researching the history of psychiatry and war trauma during World War II. Americans do not typically associate war trauma with World War II or the "greatest generation" that fought it, but the Army in fact suffered enormous manpower losses due to neuropsychiatric disorders, with rates of discharge proportionately far higher than in World War I, Korea, or Vietnam. And contrary to popular perceptions today, the issue was widely aired in the press, ultimately leading to the passage of 1946 National Mental Health Act, which for the first time designated federal monies for psychiatric research. This project will show how military psychiatrists capitalized on wartime opportunities to legitimate their expertise, and how their efforts affected both professional and popular notions of mental illness and masculine subjectivity. It focuses on psychiatrists' theoretical and clinical approaches to war trauma, their attempts to overcome public and military skepticism and outright hostility, and the models of democratic manhood they advanced. Tracing the professional, intellectual, and gendered implications of the psychiatric war effort, this work will document a pivotal era in the history of psychiatry while illuminating its larger cultural effects.