Abraham Lincoln's Journey of Faith
Thursday, April 30, 2009 at 8:00 pm
Student Service Center Multi Purpose Room
UC San Diego campus

The speaker is Ronald C. White, Jr.

Coinciding with the bicentenary celebration of the birth of Abraham Lincoln, eminent Abraham Lincoln scholar; Ronald C. White, Jr. will speak on Lincoln's religious ideas. He is the author of the recently published A. Lincoln: A Biography, which has been on the New York Times and Washington Post best seller lists.

White is Professor Emeritus of American Religious History at San Francisco Theological Seminary, Visiting Professor of History at UCLA, and Fellow of the Huntington Library. James McPherson, a leading Civil War scholar who reviewed the manuscript of this new book, says that it is the best Lincoln biography in many years, and that one of its strengths is its analysis of Lincoln's developing religious convictions. White was chosen to speak on Lincoln's religious thought to an audience of members of Congress and their spouses as part of the prelude to the bicentennial in February of this year in Kentucky (Lincoln's birthplace) sponsored by the Lincoln Bicentennial Commission.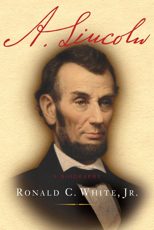 White's previous books are Lincoln's Greatest Speech: The Second Inagural,a New York Times notable book of the year and a Washington Post and SanFrancisco Chronicle bestseller, and The Eloquent President: A Portrait of Lincoln Through His Words, a Los Angeles Times bestseller and a Book of the Month Club and History Book Club selection.

Click here for more information on publications by Ronald C. White