Daniel Vickers Memorial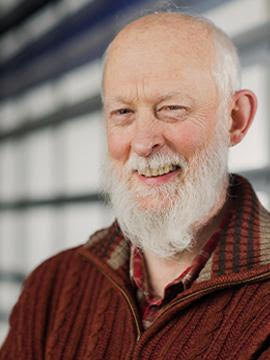 The Passing of Daniel Vickers, a wise and witty colleague, a devoted teacher, and a renowned scholar of early America
                With great sadness I write to inform you that Daniel Vickers, former member of UCSD's History Department, died on Wednesday evening, February 6, 2017.  Danny came to UCSD in 1999 and served as chair from 2003 until his departure in 2006.  He was a wise and witty colleague, a devoted teacher, and a renowned scholar of early America.  He was also a loyal friend whose kindness touched many people.
                As a social historian of New England, Danny remained centrally focused on work, economic relationships, and laboring communities. He resisted romantic evocations of pre-capitalist economic formations, but also challenged whiggish economic historians who ignored the distinctive outlook and aspirations of early American subjects.   Unlike most of the maritime historians who preceded him, Danny refused to study seafaring men in isolation.  By extending techniques of social history to maritime studies, he revealed multiple linkages between life aboard ships and on land.
                In his major published work Danny explored global themes through painstaking local research and innovative techniques of data analysis.  His first book, Farmers and Fishermen: Two Centuries of Work in Essex County Massachusetts, 1630-1850 (1994) explored the struggles and strategies of laboring people and the roots of early industrialization.  Based on the study of thousands of economic transactions it reframed the capitalism debates of the 1980s and 1990s.  Farmers and Fishermen was awarded the Dunning Prize of the American Historical Association and the Louis Gottschalk Prize of the American Society for Eighteenth-Century Studies.  While he was at UCSD Danny completed another path-breaking book, Young Men and the Sea: Yankee Seafarers in the Age of Sail (2005).  With his collaborator, Vince Walsh, he assembled a database of over 10,000 voyages and a prosopography of over 2500 sailors from the mid-sized port town of Salem, Massachusetts.  Using that material, he argued that going to sea was part of the normal male lifecycle. Those men who survived several voyages generally returned to the land. Danny showed how seafaring shaped Salem's familial and economic relationships and how traditional patterns of patriarchy extended to life on board ships. Not until the nineteenth century did sailing assume the proletarian characteristics that some historians had identified with maritime labor in general. 
                The impact of Danny's work derived not only from the quality of the research, but also from the clarity, beauty, and leanness of his prose.  He once complained about taking a whole day to write one paragraph, but admitted that he rarely rewrote a single word.
                A Canadian by birth, Danny left UCSD to become the Chair of the History Department at the University of British Columbia where he remained until his death. He was known among friends to be much tougher than he looked, but having battled cancer for eighteen years, finally succumbed to the effects of the treatment. He leaves behind his wife, Christine, daughter Sarah, sons, Simon and Timothy and a grandson. He was 64 years old.